Founded in 1996 as a communications-based organization formed to combat the lack of awareness about ocean degradation, SeaWeb has been at the forefront of ocean conservation for more than a dozen years. During that time, SeaWeb has operated by raising awareness, advancing science-based solutions and mobilizing decision makers around ocean conservation.
In just a little more than a decade, SeaWeb has become a leader in the ocean conservation community. This is due in large part to the way that SeaWeb uses social marketing strategies to set the stage for successful campaigns. Social marketing combines the techniques of social science research, such an in-depth interviews and surveys, with marketing campaign strategies to achieve changes in behavior in targeted audiences. By using strategic communications and social marketing techniques and campaigns, SeaWeb can better conditioning the climate, or set the stage, to make ocean campaigns more effective. SeaWeb can then inform and inspire others to become leaders in the ocean community—ocean champions who can work to achieve strong ocean policies and market solutions to the many threats to our ocean.
Since 1999, SeaWeb has been an independent 501(c)3 organization that receives funding from a variety of foundations and other sources. Through its several initiatives, SeaWeb today maintains contact with thousands of journalists, scientists, business leaders, non-government organizations and opinion leaders via its website, newsletters, individual meetings, group briefings and other means of communication. These ocean voices regularly rely on SeaWeb to inform them of new research and events relevant to the ocean, and to provide a forum for interaction. The result is a better understanding among the various stakeholders in marine conservation, increased press coverage ocean issues and a better-informed public. Additionally, these synergies aid other conservation professionals in communicating their materials and messages to the press, public and policymakers.
The following are some of our most outstanding success stories using our unique and time-tested approach—but certainly not our last.
Give Swordfish a Break
As SeaWeb was gaining ground in the ocean conservation community, one campaign in particular stands out as a highly successful social marketing campaign. In 1998, SeaWeb and the Natural Resources Defense Council (NRDC) initiated Give Swordfish a Break, a campaign that advocated for recovery measures to restore populations of North Atlantic swordfish after decades of overfishing and mismanagement. This campaign marked the first large effort to mobilize chefs and consumers in support of stronger fish conservation.
During the course of the campaign, hundreds of chefs signed the "Give Swordfish a Break" pledge, while others—including the Peabody hotel chain, cruise lines, grocery stores and airlines—agreed to remove North Atlantic swordfish from their menus and dining choices. The campaign ended successfully in August 2000 when the U.S. government closed nursery areas in U.S. waters and the International Commission for the Conservation of Atlantic Tuna (ICCAT) implemented international quota restrictions and announced that North Atlantic swordfish have reached 94 percent of healthy levels.
The campaign later received the prestigious Silver Anvil Award from the Public Relations Society of America for its communications and publicity success.
Caviar Emptor and L´Autre Caviar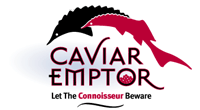 In 2000, SeaWeb, the Wildlife Conservation Society and Natural Resources Defense Council launched the Caviar Emptor campaign to protect endangered Caspian Sea beluga sturgeon and to point U.S. consumers toward sustainable, farmed caviars as an alternative. After the campaign helped build support, in 2004, the U.S. Fish & Wildlife Service declares beluga sturgeon "threatened" with extinction and additional trade protections are granted.
In 2005, SeaWeb launched its L´Autre Caviar campaign promoting sustainable caviar consumption in France. The same year, the United States bans beluga caviar imports from Caspian Sea nations after they fail to provide evidence of improved conservation plans for beluga sturgeon, marking a significant victory for the Caviar Emptor campaign. By January 2006 the United Nation's Convention on International Trade in Endangered Species banned global trade of all wild caviar, including Caspian Sea caviar, because of unsustainable fishing levels. Caviar Emptor, which had been supporting stronger CITES trade controls for five years, applauded the ban and recommended a long-term fishing moratorium on beluga sturgeon.
The campaigns obtained their objectives and SeaWeb won several awards in the process, including the Wilmer Shield Rich Award based on its work to protect the endangered beluga sturgeon and promote sources of sustainable caviar and won a highly prestigious Silver Anvil Award from the Public Relations Society of America.
Fair Catch
In partnership with The Nature Conservancy and Mālama Hawai'i, SeaWeb created the Fair Catch campaign in 2006 to help restore Hawaii's nearshore ocean by encouraging responsible fishing practices and supporting actions that protected it from further decline. The campaign mobilized native Hawaiians and fishers to lead the way in preserving this isolated and fragile part of the ocean.
The campaign focused on five areas designed to maintain a healthy ocean:
Responsible fishing: Fishing by throw net, pole and line, and breath-hold spear fishing to take only what is needed, avoid damaging reefs and release large fishes.
Policy change: Banning the use of lay gill nets.
Fisheries enforcement: Encouraging enforcement efforts and increased funding for them.
Scientific monitoring: Increasing scientific monitoring of nearshore resources.
Public participation and education: Urging coastal communities to participate in fisheries management and monitoring. By implementing SeaWeb's proven model—built upon years of experience with the Give Swordfish a Break, Caviar Emptor and L´Autre Caviar media campaigns—Fair Catch was successful. We achieved each of the Fair Catch policy goals, and today the nearshore Hawaiian ocean resources are in a better state than before the campaign began.
It's SeaWeb's unique approach to achieving behavioral change that has given us a 100 percent success rate and ensures our current campaigns, such as Too Precious to Wear, and our future campaigns will have similar positive outcomes.
For more information on SeaWeb's current work and success stories, visit Initiatives and SeaWeb in Action.